I recently finished a Self Portraiture class. Big deal, right? Except this class wasn't about how to take a better "selfie". It was more about connecting with yourself, discovering and documenting what you're about, and expressing this through images.
While I had my expectations of the class before it started, what resulted was a bit different. My initial expectations were pretty much in line with the class description - to create "a platform for you to explore photography and celebrate yourself with a camera". I had expected my images to be generally positive in mood. But, they weren't.
I found that this class was a bit emotionally uncomfortable at first, too. I'm not one to take many photographs of myself. It felt weird and self-serving. I suppose the self-serving part is accurate, they are portraits of me. But as I realized that this experience was akin to journaling, that made the process easier. (And yes, I did just use the word akin.)
To my surprise, the images were more in line with what I'm experiencing in my life right now. Without going into tons of detail, my husband and I are experiencing the declining health of our dog that we've had for 15 years. We're allowing our lives to be disrupted for what we hope is to provide a relatively happy existence for our "little old man" (as we've come to affectionately call our dog Mulder, with the physical ailments and decline of a very elderly person).
The little day to day experiences with Mulder for the last year, plus life's other trials and tribulations that we all experience, are slowing chipping away at our normally cheery demeanor. Overall life is pretty good for us, but I think you can tell that our dog is a pretty big part of our lives, so his decline has a big impact on us. And THAT ended up coming through during this class.
Why share with you?
Life isn't all happiness and laughter, or smooth sailing. We all experience rough waters. I think too often others think everyone is happy but them self. But we're fooled because we put on that happy face when we're out in public. And I think it's important that others know that it's ok to not always be happy. I have friends right now who are dealing with far worse, and I want them to know you don't have to put on that happy face for me.
Who I am today is reflected in the photographs I took. With a couple slightly goofy photos—I do still have those moments. The variety of images reflect: words that describe me, reflections, and a documentary style. No doubt taking this class at a different time in my life would have yielded different images.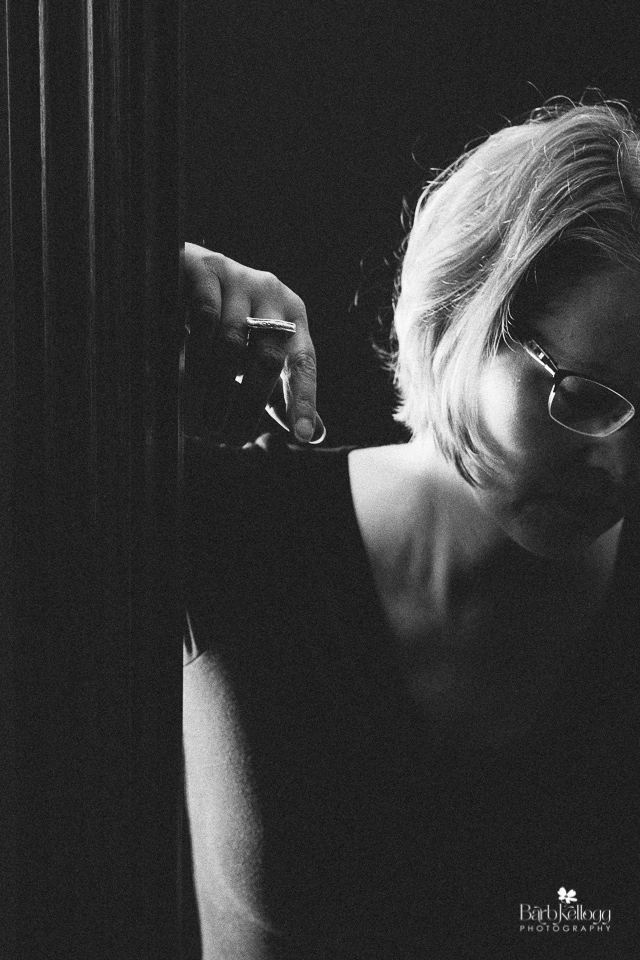 As for the technical part of this class, images were taken on a tripod with a timer, light came from a soft box, a small LED, or natural light, and a few images were handheld. And yes, getting the focus right can be a bit of a challenge when behind the camera focusing on the place I expect to be when in front of the camera.
If you're interested in the class I'm referring to, it's called The Art of Self Portraiture taught by Cheryl Machat Dorskind, at Bryan Peterson School of Photography (or BPSOP for short). I've actually taken many online classes from them, and have nothing but positive things to say.