Lessons Learned So Far in Long Exposure Photography...and what the heck is long exposure photography?
There's something for everyone in this blog post. I'll start with a definition, then show you some major mistakes, some lesser mistakes, and many lessons learned. For some of you, even though you have no desire take these kind of photographs, you might have wondered a bit how they were made. Plus a couple photos from Nova Scotia, Canada (and even a glimpse of my husband).
Long Exposure Defined — I figured I would do what everyone does. Google the definition. Of course the first result is from Wikipedia, and this sounds as good as anything. The whole idea is to show the passage of time, so there is no exact length of exposure to do that, since everything moves at a different rate.
My First Long Exposure Photograph
I've shied away from learning this technique for years. Partially because I don't really "do" landscape photography. It is definitely more intentional photography; you don't just "click" and you're done. Probably a better way for me to describe it is it's not any less intentional or less thought out than my other work, it's just a different kind of thinking and planning.
For whatever reason, I decided that this was the summer I was going to try it. I certainly don't have results like those of the excellent photographers I admire. But I know they started somewhere, too. I watched some videos online, and ordered a couple cheap ND filters (they block some light so you can keep your shutter open longer), and out I went. My goal? Wispy looking clouds.
Here's a quick shot of what the clouds looked like in just a regular photograph.
Basically, you guess at how long a shutter speed you will need to get the capture of movement you want, in my case, the clouds. I used an iPhone app that figured out a lot of the math. :) I didn't need this long of an exposure, and my camera settings were wrong, but trial and error is how we learn. I did a lot of learning. :) But it was very pleasant evening for sitting among the lupines in this wildlife preserve, with cows mooing pleasantly in the distance.
And over six minutes later, with my camera pointed just to the left of where I am sitting.
What I've Learned (or, Mistakes for other photographers to learn from)
1. A remote shutter release is important after all. Leaving it in your camera bag next to you doesn't work. Use it!
2. Cheap ND filters enhance vignetting (that's the darkening at the corners). (For now, I need to live with the cheap filters and correct as best I can in post.)
3. An exposure calculator on your phone is very helpful, but counting out loud and trial and error is more fun. (At least for exposures under a minute. YMMV based on your tolerance for ambiguity.)
4. Relating to number 1, you may not think your tripod is moving, but it is. Weigh that puppy down with whatever you've got. (Rock embankments don't move in the wind, but your camera will. Results in disappointingly blurry photos.)
5. Long exposures create noise (grain, sort of like in the film days) in images. How much depends on how long your exposure is and your camera and your settings. Keep your ISO as low as possible (probably 100 or 200 depending upon your camera), and long exposure noise reduction turned on (which means your camera will take longer to save your image to the card. You can experiment with turning it off and reducing noise in post. (I had some really funky red confetti-like noise from my Sony camera, and thankfully a Facebook group member helped me figure out the cause of it.)
6. Timing crashing waves is not easy, or guessing how big they will be. Especially for me living in a landlocked state. We have a lot of water in Minnesota, but it's generally of the gentler variety.
7. If people aren't moving in your photograph, they won't seem to disappear when using long shutter times. And it doesn't work to say "move move move" in your head. :) I tried that in Nova Scotia, and I still needed to erase a couple people out of the image. (If only all life were that easy, right?)
It's been awhile since I really truly sucked at making images. I'm not saying all my images are stellar, but I do feel like I have a pretty firm grasp on things. But not with long exposure photography. I've learned that it's best if I focus on what I'm trying to learn at the expense of everything else. If I try to get everything right to make a "perfect" image, I get incredibly frustrated. So these attempts at long exposure images are a great way for me to remember what being a newbie is like.
Nova Scotia, Canada — my second attempt at long exposures
My husband and I recently went to Canada for vacation. Lots of moody, atmospheric fog. :) I was happy. (Probably the only tourist that was.) This was my second attempt at long exposure, learning from my mistakes the first time. Many of the items listed above are mistakes I made here in Canada. My goal wasn't to come away with anything stellar, but to continue to learn in pretty environment. (Although it was windy and heavily misting - not ideal.)
The first image is a regular image to show the environment as I was in it, with all the people (shot at 1/125 sec, f/8; and that's just some dude, not my husband, in the mid-ground). I wanted to get rid of most or all of the people milling around, an excellent use of long exposure!
The second image of the lighthouse I rather like as there are hints of people (6 secs, f/22, with a 10 stop ND filter). The third image are the waves crashing on the rocks (22 sec, 10 stop filter). (The wave ones were where I really messed up not weighing my tripod down and using a remote trigger for the exposure. Should have used it on the lighthouse images, too. Lesson learned.)
And the last image is of my husband traversing the rocks along the Bay of Fundy. :)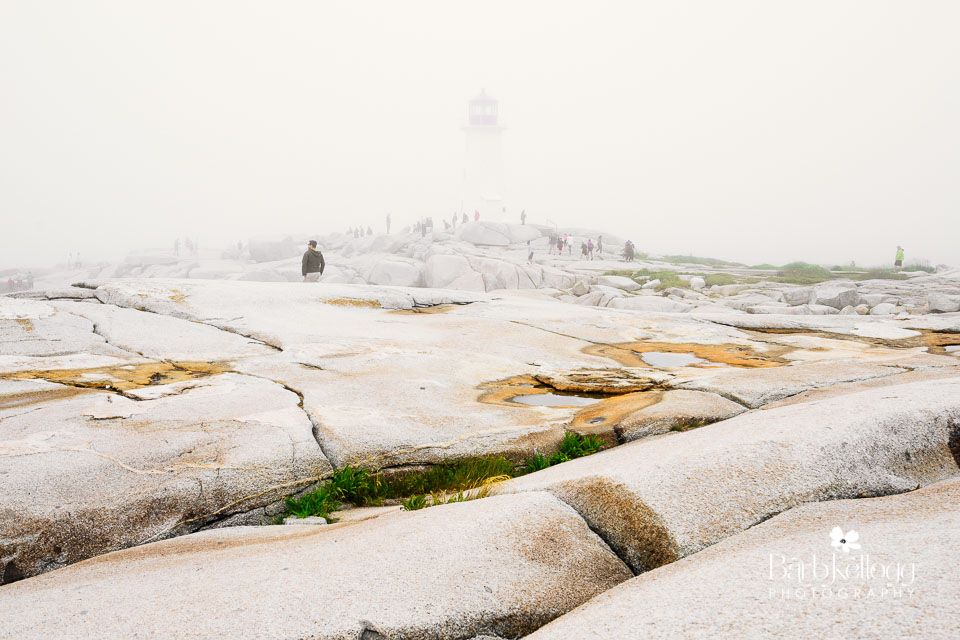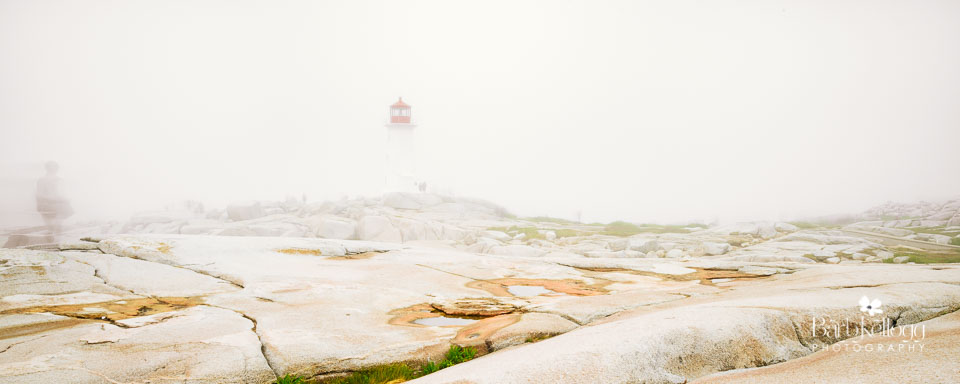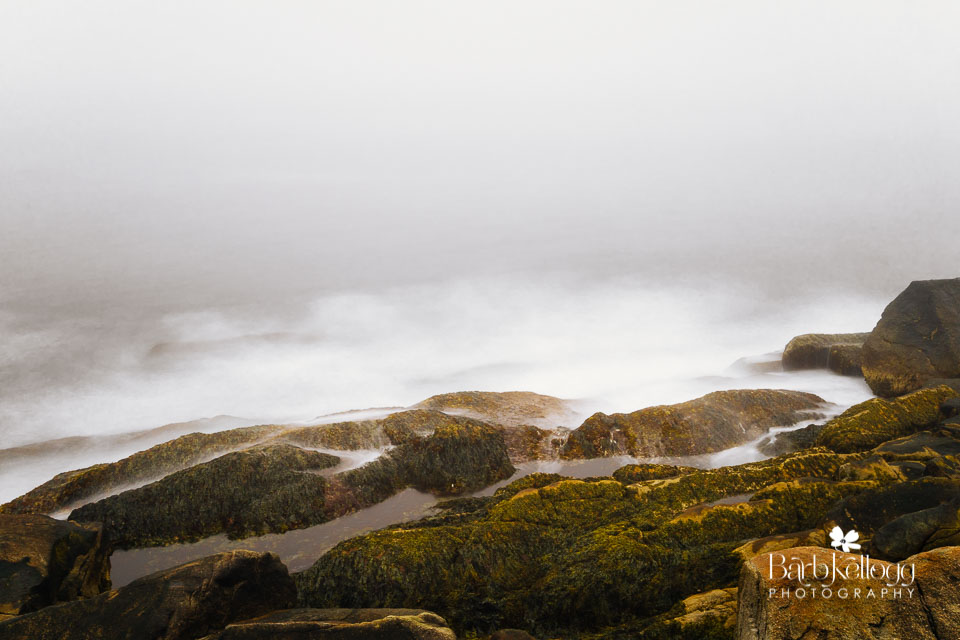 I hope to do some more long exposure images this summer. I'll be sure to share them with you!
~Barb Kellogg, photographer, tea drinker, and dark chocolate lover
hello@barbkelloggphotography.com
If you loved my blog post, thank you for sharing on your favorite social media!
Questions? Comments? I'd love to hear from you. You can comment below, or you can email, too.