The Beauty of Oregon
Do you really need more than the photos today? When you click an image below to open in the full size gallery, you'll see the titles to the images when you hover over them.
All images are available now in my online Shop! I've filtered them for you by the "film" category so there's less to wade through.
I'll write a little bit below if you like.
If you remember from the last Oregon post that featured images from the Oregon coast, all I brought with me was a film camera, a Nikon FE2 that I had bought used this past fall. I was incredibly frugal with film, often only shooting one frame at a location, because I knew I couldn't buy more, as film isn't something you can find locally easily. (Compare that to me likely shooting at least a dozen digital to get more angles, maybe experiment with exposure.) I was so frugal, that I actually had at least a dozen shots left on the last roll I shot. I won't be so conservative next time.
I loved this area, so I splurged on TWO frames at a couple locations. :) I could have spent a couple hours there just at Starvation Creek. (It's the last two images in the gallery.) But we were a little "waterfalled out" at that point, and needed to get on the road to head over Mount Hood.
Technical Details
Locations: Silver Falls State Park, Columbia Gorge (Bridal Veil Falls and Starvation Creek), Oregon
Camera: Nikon FE2
Film: Fuji 400H
Tripod: Oben AT-3535 (It's only a foot tall when folded. Ideal for me when travelling. I wouldn't recommend if using heavier lenses.)
Develop and Scanning: Photovision Prints
Additional creative: Adjustments made in Lightroom by me.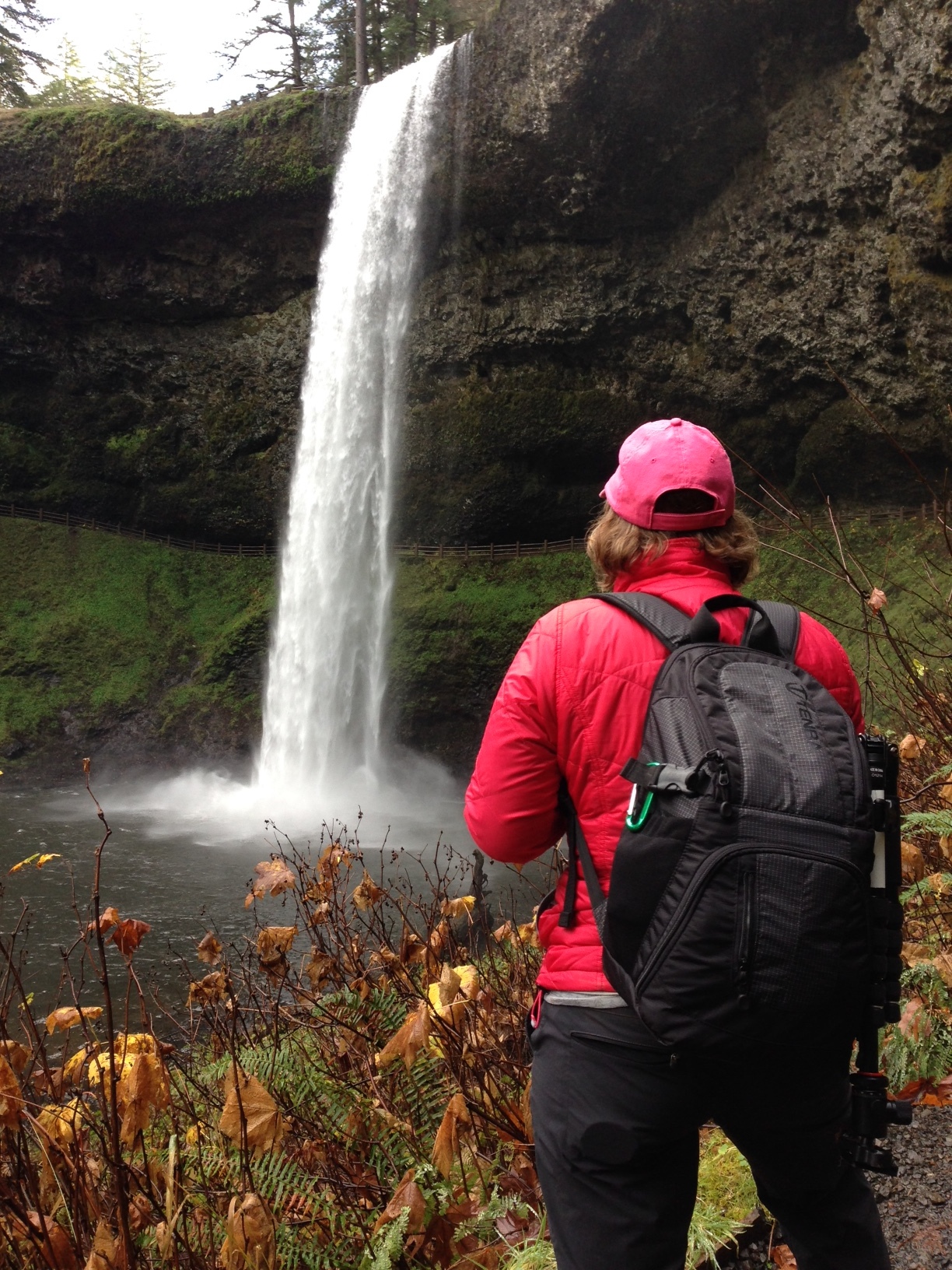 My husband's view of me photographing. Plus, proof that yes, I do carry a tripod some of the time. (It's attached to the right side of my backpack.) And I definitely needed it on this trip, as I was shooting with slower shutter speeds than what I can hand hold without blur.
There are a couple more miscellaneous images left from this trip that I'll share with you soon!